San Diego, California Luxury Elopements: Top 5 Venues
ELOPE IN SAN DIEGO, CALIFORNIA
Are you envisioning an opulent elopement that seamlessly combines the allure of California's coastal beauty with the extravagance of world-class resorts and venues? Look no further. San Diego often hailed as "America's Finest City," is one of the best destinations for couples seeking a lavish and intimate wedding experience. In this guide, we will discuss five of the most luxurious locations for your dream elopement, from the idyllic Rancho Valencia Resort and Spa to the timeless sophistication of The Lodge at Torrey Pines. Additionally, we will delve into the compelling reasons why opting for a beachfront ceremony in locations such as La Jolla or Del Mar are beautiful locations to create unforgettable moments while celebrating your romance.



CHAPTERS:
1. Elope in San Diego, California
2. San Diego, California Luxury Elopements: Top 5 Venues

3. Why Choose a Beach Wedding in La Jolla or Del Mar?

San Diego, California Luxury Elopements: Top 5 Venues

Located in Rancho Santa Fe, the Rancho Valencia Resort and Spa is the top-tier location for a truly romantic elopement. Not only is it boasting luxury, the exclusive resort is nestled within 45 acres of lush gardens and olive groves. The 5-star resort is a haven of luxury and romance. As you exchange vows in the gardens or the exquisite Valencia Lawn, you'll be met with the fragrance of citrus blossoms and the gentle rustling of palm trees.
Why Rancho Valencia?
Intimate Setting: With a mere forty-nine luxurious casitas and suites, Rancho Valencia offers an intimate atmosphere, guaranteeing personalized attention and service.
Gourmet Dining: Celebrate and toast at the exclusive onsite restaurant and bar called

The Pony Room

, where you can dine and enjoy craft cocktails to accompany your special day.

World-Class Spa: Indulge yourselves with pre-elopement spa treatments and relaxation, reinvigorating both body and soul before you say 'I do.'
Located in Del Mar, this place is a prime location for couples who want to have a seaside elopement. L'Auberge Del Mar emerges as the perfect venue. Perched above the majestic Pacific Ocean, this luxury beachfront resort offers breathtaking ocean views and unparalleled coastal beauty.


Why L'Auberge Del Mar?
Oceanfront Ceremonies: Choose the Pacific Terrace as the location to say "I do" and bask in the beauty of the stunning ocean backdrop. Or, opt for the more intimate beach ceremony just steps below the resort.
Tailored Experiences: L'Auberge's event specialists are available to craft every detail, from floral arrangements to culinary delights, ensuring your elopement mirrors your unique love story.
Luxurious Accommodations: Retreat to ocean-view suites with private balconies, where you can savor the sounds of the sea and toast to your love with champagne and relax!
Located in the gorgeous seaside town of La Jolla, the La Valencia Hotel is a timeless option for a charming elopement celebration. Often referred to as "The Pink Lady," stands as a historical gem in the beach town. Its timeless Mediterranean-style architecture and panoramic ocean views have rendered it a beloved choice for weddings.
Why La Valencia?
Romantic Rooftop Terrace: Couples can say "I do" on the Ocean View Terrace, surrounded by breathtaking vistas of the Pacific and the vibrant La Jolla Village. What is more romantic than a terrace that is both quaint and intimate?
Charming Courtyards: This boutique hotel boasts enchanting courtyards and gardens, perfect for intimate elopements.
Artistic Legacy: Adorned with vintage glamor, La Valencia is a work of art, offering a blend of luxury and nostalgia that's truly unique.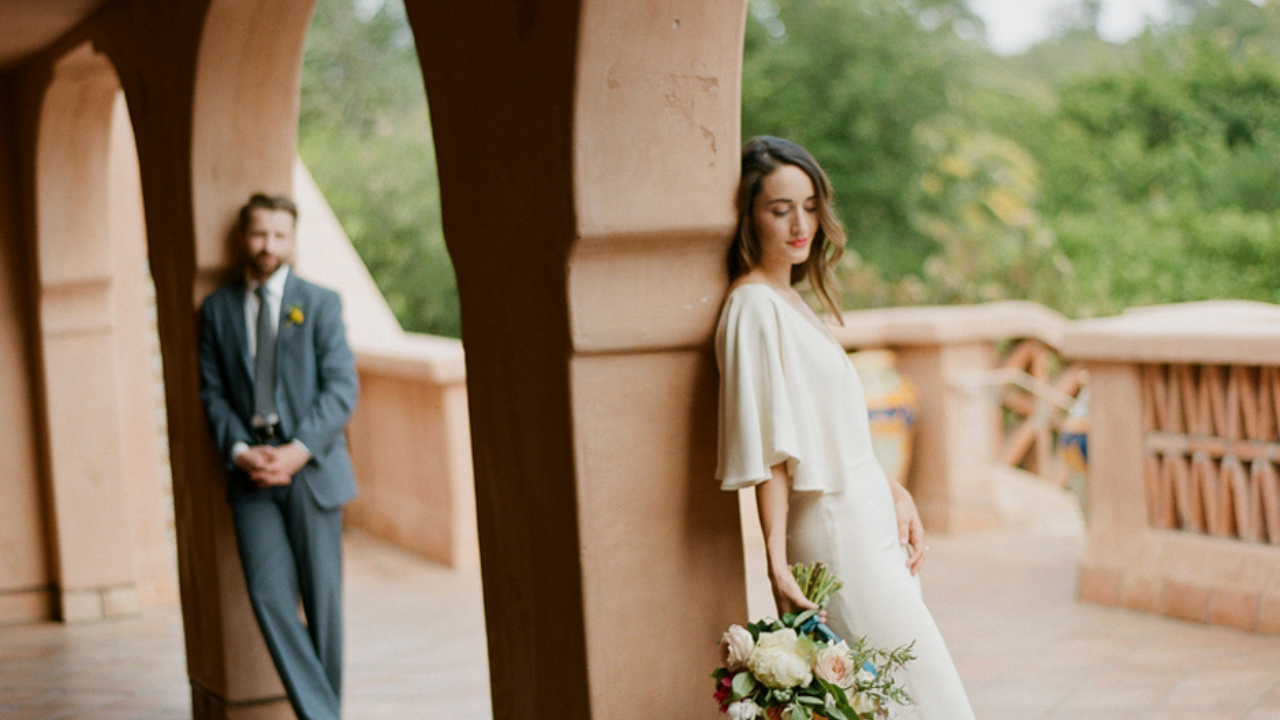 Also located in La Jolla, this hidden oasis is tucked away in the heart of the town and stands as a secret place that marries rustic elegance with modern luxury. Its lush gardens and Spanish-style architecture create a serene backdrop for your elopement.
Why Estancia La Jolla?

Garden Courtyard Ceremonies: A place to exchange vows amongst colorful blooms, beautiful fountains, and, of course– the warm California sun!
Spa Retreat: Relax and prepare for your big day at the on-site spa, which offers an array of wellness treatments to enhance your natural beauty.
Culinary Delights: In farm-to-table cuisine, where local flavors are meticulously crafted into exquisite dishes, head to

Greenfinch Restaurant

for a whimsical meal.
Located in La Jolla, our final choice, The Lodge at Torrey Pines, embodies timeless elegance and pays homage to the California Craftsman architectural style. Overlooking the world-renowned Torrey Pines Golf Course and the Pacific Ocean, it offers a sophisticated setting for your elopement. It is one of San Diego's most sought-after places to visit.


Why The Lodge at Torrey Pines?
Golf Course Views: The backdrop of the Torrey Pines Golf Course, with its majestic cliffs and ocean vistas, provides a picturesque setting for your ceremony.
Craftsman Charm: The Lodge's attention to detail and commitment to preserving Craftsman-style architecture creates an atmosphere of refined sophistication.
Award-Winning Dining: Celebrate your love with a memorable meal at

A.R. Valentien - Fine Dining in San Diego

, the resort's signature restaurant, is celebrated for its exquisite cuisine. The fine dining restaurant highlights regional cuisine and is served elegantly while preserving the lodge's architecture.






Why Choose a Beach Wedding in La Jolla or Del Mar?

While these luxury resorts and venues offer luxe settings, there's something inherently romantic about exchanging vows on the pristine beaches of La Jolla or Del Mar. Not to mention, the musical sound of ocean waves serves as a natural symphony to accompany your special day. It provides a soothing and grounding presence, perfect for calming nerves and elevating the overall experience.
Natural Beauty: The unspoiled beauty of the California coastline provides an awe-inspiring backdrop for your ceremony. The golden sands, the soothing sound of waves, and the stunning sunsets create an irresistibly romantic atmosphere that's hard to replicate elsewhere.
Intimate Atmosphere: Beach elopements naturally evoke intimacy, allowing you as a couple to focus on each other and your heartfelt commitment. The serene and untamed beach settings enhance this sense of closeness.
Unmatched Sunsets: San Diego's coastal location gifts you with breathtaking sunsets that paint the sky in hues of orange and pink. A beach wedding at sunset is a dreamlike experience, resulting in captivating photos and unforgettable memories.
A luxury elopement in San Diego harmoniously combines the elegance of world-class resorts and venues with the timeless allure of the California coastline. Whether you select the enchanting gardens of Rancho Valencia, the oceanfront grace of L'Auberge Del Mar, the historical charm of La Valencia Hotel, the hidden oasis of Estancia La Jolla, or the timeless beauty of The Lodge at Torrey Pines, your San Diego elopement promises to be a storybook-worthy celebration of love. Furthermore, if you opt for a beach wedding in La Jolla or Del Mar, you will elevate the backdrop in the sun by the sea– rendering your special day truly unforgettable. Elope in California amid luxury and coastal splendor and create memories to last a lifetime.
At The Elopement Experience, we specialize in curating luxury elopements worldwide, including the enchanting destination of Malibu. Our team of dedicated professionals is committed to creating extraordinary experiences that go beyond your wildest dreams. If you're ready to embark on a journey of love and luxury, we invite you to connect with us and discover how we can bring your vision to life. Let us handle the intricacies while you create cherished memories that will last a lifetime.
Contact us today to begin your unforgettable elopement experience.